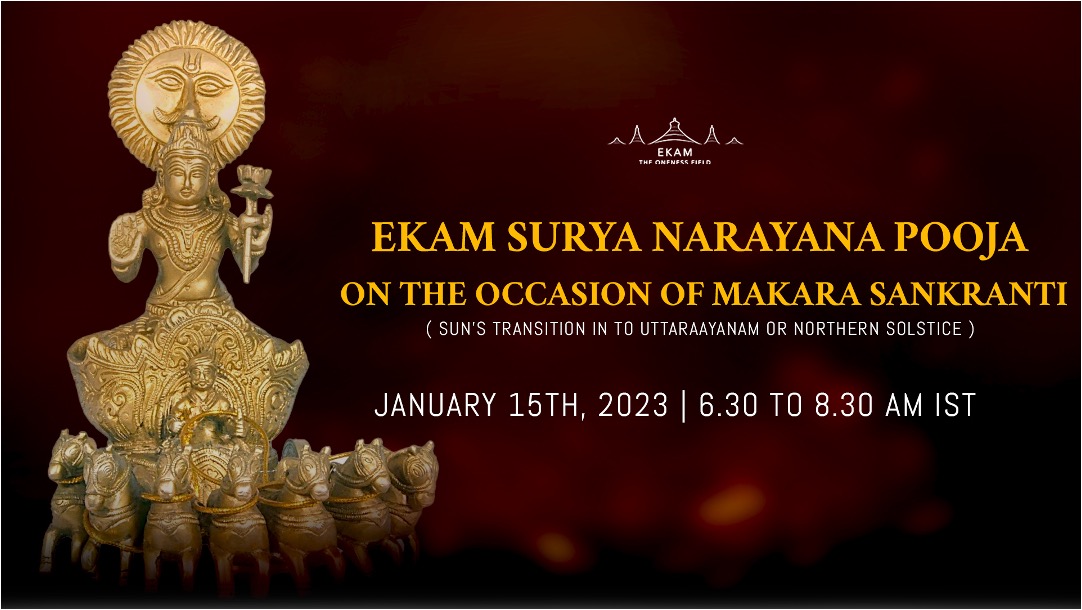 EKAM SURYA NARAYANA POOJA
15th, January, 2023
06:30 AM to 08:30 AM IST
MAKARA SANKRANTI is the harvest festival in India which marks the Sun's transit or movement towards the Northern Solstice which is called as Uttarayan in Indian Calendar
Spiritually , It is supposed to be a time when human consciousness can very easily access grace from the divine.
That is when sun enters into the Makara constellation. It's supposed to be a time when the spiritual energies of the sun are available for evolution of human consciousness. So Makara Sankranthi is special, the beginning of Uttarayanam phase is special and for Celebrating that in Ekam with a ritual is very very special , because Ekam is a surya yantra which is built after sun's energies.
The Name of the ritual happening in Ekam during the Makara Sankranti is EKAM SURYA NARAYANA POOJA which is chanting 1008 Names of Sun God and thanking and worshipping Sun God. In this Pooja you will be receiving immense Blessings from Ekam for your material and spiritual growth
SPECIAL SANKALPA PRAYER FOR REGISTERED PARTICIPANTS
If anyone of you want us to hold a special Sankalpa and prayer for you or your family you can register for the special sankalpa prayer . Ekam Dasas will sit around the Hiranya Garbha and hold intention and pray for everyone of the registered participants Sri Preethaji and Sri Krishnaji will be there in very special states of consciousness blessing everyone.